Product Execution
New products: Before a product arrives at retail the following tasks need to be taken into consideration:
Target audience
Price point
Competition
Most effective product launch and follow up execution
Packaging: Evaluation of packaging through the following elements:
How shape, color and size relates to customer motivation
Differentiate from competition
Promote brand image and values
Act as a medium for advertising and sales promotion – company website, social media sites
Consumer promotional campaigns: Offering effective campaigns that reach the target audience:
Cross promotion campaigns with a supporting product or service
Press/social media campaigns: Manage press/social media
Research, interview, write and distribute press releases to targeted publications
Create and manage social media sites, i.e, Facebook, Twitter
Category analysis: Create PowerPoint presentation with IRI/Nielsen data analyzing the following:
Market share – dollars and volume
How company is performing against competition
Sales/PLU
Measure effectiveness of advertising
FOR IMMEDIATE RELEASE:
CONTACT: Juanita Gaglio – DigitScans
(562) 881-1611, Juanita@digitscans.com
Revolutionary Mobile App Tightens Up Supply Chain and Expands Marketing Initiatives
Consumers can now scan their produce to learn about origin, recipes and join social media sites
Palo Alto, California (July 29, 2011) – DigitScans,  a Palo Alto based technology  company,  is launching a "leading edge" process known as GreenScans, a mobile app that would allow produce companies to integrate their marketing initiatives utilizing their existing product barcodes.  The process is applicable to either bulk or packaged items.  It would give the company the ability to be "front and center" with their customer through "real-time" interaction.
DigitScans is the brainchild of technology entrepreneur George Pierce who has ten years in supply chain logistics and technology start-up experience.  Co-founding owners are twenty year marketing produce veteran Juanita Gaglio and Jim Stein with twenty years of software development experience.  The produce app has been in development for three years and is the first produce app made available to consumers at no cost.
Some of the platforms that would appear on consumer's smartphone screen would be: the company's website, consumer newsletter, recipes, nutrient content and/or be directed to the company's Facebook page or other social media site.  Interaction between the consumer and the company will be in "real time" as the consumer is prompted to indicate their satisfaction of the product or "Share" information with their friends.   Consumer contests are always a challenge; however, the produce app will facilitate contests by downloading e-coupons directly to the smartphone or tablet device.This produce app arrives at a time when technology and produce converge.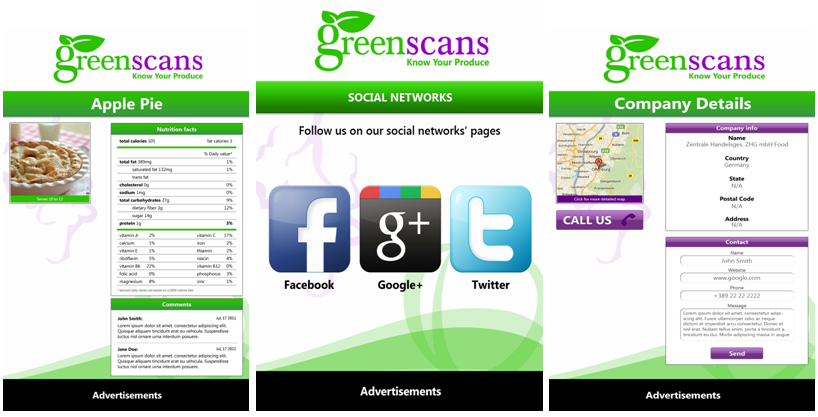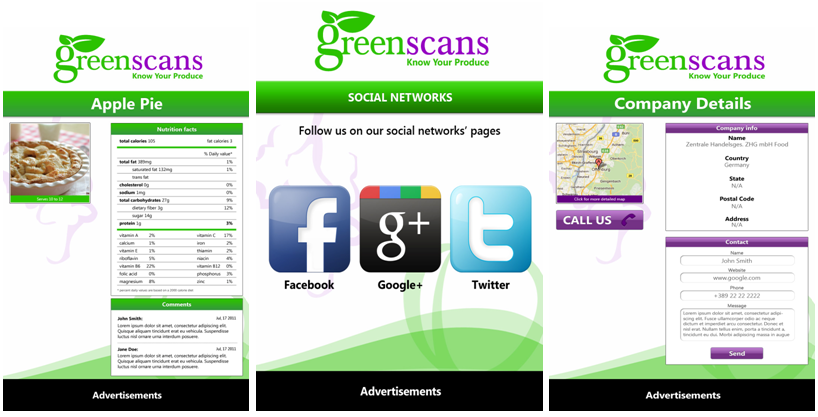 "I knew that retailers and produce companies were missing opportunities, when I read an article in the December 2010 -Packer about Dole launching a mobile platform with their packaged salads.  I wanted an app with a broad scope of initiatives thus, GreenScan was developed," states company founder, George Pierce.
Consumers are driving marketing initiatives by becoming more savvy armed with product information.  One consulting company that has researched consumer's purchasing trends, Capgemini, released a "2020 Future Value Chain Report" stating, "Consumer's lives are changing due to the technologies they are using at home, at work, and in stores and on the go – and so is their shopping and consumption behavior."    With the proliferation of smartphones, a report published by Capgemini and GS1 – Beyond The Label, states that 30% – 40 % of smartphone owners have downloaded an app, with the ability to read barcodes, the use of which increased by 1,600% in 2010.
DigitScans is currently in exploratory discussions with a number of produce companies and retailers.  The process integrates the entire supply chain beginning with information on source of product to inventory control and tighter collaboration between retailer and supplier.  For further information, please refer to the company website: http://www.digitscans.com or contact Juanita Gaglio, Juanita@digitscans.com.
DigitScans is a technology based company bringing positive change and solutions to retail companies and consumers.   Translating technology into everyday results.
 ###