Meet Juanita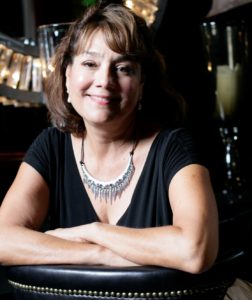 International product and co-product execution specialist deeply rooted in data and consumer insights.  Let's talk product marketing: 562.881.1611 or juanita@berrybroad.com
Juanita's professional marketing background began in Brussels. Belgium.  It comprises more than twenty years working with companies in both Europe and the U.S.  Her international experience has given her a unique ability to traverse cultural differences and understand the business landscape.  This has been of value in representing both CPG and fresh produce to retail.  Her marketing acumen ranges from data analysis to managing a PR campaign and understanding the value of social media.  "It is imperative to look at trends before constructing a "roadmap" from relevant market data to develop a competitive edge in the market."  With the introduction of the first app, greenscans, that read PLU stickers on produce, she has continued to develop interest in the food technology sector: Blockchain Technology, edible bar-codes – DNA-based fingerprints, food waste and the obesity epidemic.
After living and working in Europe for several years, she returned to the United States in 1996 to represent the New Zealand Apple & Pear Marketing Board and Kiwifruit Board for six years. She has continued to represent various foreign fresh imports from Citrus from Australia and South Africa to Northwest Cherry Growers.
Currently, she is working with the Hass Avocado Board presenting various data reports from consumer insights to price elasticity studies to their members – avocado marketers/shippers.  Other recent project involved managing public relations for the thermal heat technology company, Agrothermal Systems.  "I enjoy all aspects of marketing from analyzing data to creating consumer campaigns. My strength lies in being able to integrate concepts and vision to a powerful strategy that achieves the goal."
Previous Positions
Director of Marketing, Sun World International
Built, grew and created marketing campaign for the company's product line of proprietary grapes and stone fruit.
Achievements – launched new company website, created "leading edge" consumer campaign with branded grape, managed PR campaign, created new trade ads for company products, analyzed product data for category management presentations to clients.
Marketing Manager, Naturipe Farms LLC
Assumed newly created position of marketing manager.
Tasked to establish "Best Practices" for company line of berries through IRI data analysis for category management review to clients. Managed PR campaign and product collateral.
Produce Marketing Consultant, Produce Metrics
Represented Florida, Texas, California and Australia Citrus and Mexican Mangoes to produce decision makers in U.S supermarkets.
Brand Manager, New Zealand Apple, Pear and Kiwifruit Board
Designed customized consumer campaigns for accounts; ex: Tied in a home through Habitat for Humanity for Whole Foods with each box of New Zealand Kiwifruit sold to account. All divisions participated; generated a 27% increase.
Created and presented pre-season power point presentations to accounts to define – volume targets, account's historical sales and volume by varietal, set consumer programs for upcoming season.
Analyzed sales and volume movement for reports that were presented to account and client on a bi-weekly basis.
Marketing Manager, IAMDC -International Agricultural Market Development Co
Chosen to identify cultural dynamics that would promote two produce organizations in the European market.
Chilean Fresh Fruit Organization
Department of Citrus — Florida
Market reports to Chilean Fresh Fruit Organization and Department of Citrus – Florida.
Researched and presented  country demographics, GNP, supermarket structure, country currency and trade tariffs.
Assisted in creation, design and production of POS for French-speaking countries.
Education
Boston University – Brussels, Belgium
M.S.M, International Business
1984 – 1985
California State University-Long Beach
B.A, Sociology
1978 – 1980