Meet Juanita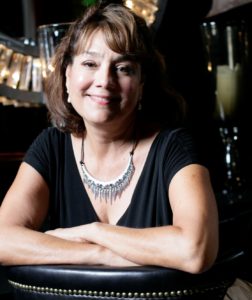 International product and co-product execution specialist deeply rooted in consumer insights.  Let's talk produce marketing: 562.881.1611 or juanita(at)berrybroad(dot)com
Principal –  (BerryBroad.com)

Juanita  possesses a multinational background, with twenty years of international experience in the European and U.S markets and has conducted business in French. She has represented both packaged goods and fresh produce, reporting to various commodity boards. Her expertise is working with both retailers and consumers to design & execute promotional programs. Her marketing acumen ranges from data analysis to managing a P.R campaign and website development. She is also well versed in social media and is a contributing columnist for the on line publication Fresh Fruit Portal.
Her produce marketing career began in Brussels, Belgium with an agricultural consulting firm, representing the Chilean Fresh Fruit Organization and the Florida Department of Citrus. Her task was developing a strategic marketing plan through extensive research at the European Commission.
After living and working in Europe for ten years, she returned to the United States in 1996 to represent the New Zealand Apple & Pear Marketing Board and Kiwifruit Board for six years. During this time, she also represented Australia citrus, as well as, several other commodity boards.
Currently, she is working with the Hass Avocado Board interpreting all the various data reports from consumer insights to price elasticity studies to the avocado marketers/shippers.  Her other projects involve managing public relations for the thermal heat technology company, Agrothermal Systems.  "I enjoy all aspects of marketing from analyzing data to creating consumer campaigns. My strength lies in being able to integrate concepts and vision to a powerful strategy that achieves the goal."
Previous Positions
Director of Marketing, Sun World International
Built, grew and created marketing campaign for the company's product line of proprietary grapes and stone fruit.
Achievements – launched new company website, created "leading edge" consumer campaign with branded grape, managed PR campaign, created new trade ads for company products, analyzed product data for category management presentations to clients.
Marketing Manager, Naturipe Farms LLC
Assumed newly created position of marketing manager.
Tasked to establish "Best Practices" for company line of berries through IRI data analysis for category management review to clients. Managed PR campaign and product collateral.
Produce Marketing Consultant, Produce Metrics
Represented Florida, Texas, California and Australia Citrus and Mexican Mangoes to produce decision makers in U.S supermarkets.
Brand Manager, New Zealand Apple, Pear and Kiwifruit Board
Designed customized consumer campaigns for accounts; ex: Tied in a home through Habitat for Humanity for Whole Foods with each box of New Zealand Kiwifruit sold to account. All divisions participated; generated a 27% increase.
Created and presented pre-season power point presentations to accounts to define – volume targets, account's historical sales and volume by varietal, set consumer programs for upcoming season.
Analyzed sales and volume movement for reports that were presented to account and client on a bi-weekly basis.
Marketing Manager, IAMDC -International Agricultural Market Development Co
Chosen to identify cultural dynamics that would promote two produce organizations in the European market.
Chilean Fresh Fruit Organization
Department of Citrus — Florida
Market reports to Chilean Fresh Fruit Organization and Department of Citrus – Florida.
Researched and presented  country demographics, GNP, supermarket structure, country currency and trade tariffs.
Assisted in creation, design and production of POS for French-speaking countries.
Education
Boston University – Brussels, Belgium
M.S.M, International Business
1984 – 1985
California State University-Long Beach
B.A, Sociology
1978 – 1980